A half-hearted approach to using LinkedIn
Most people, when they first start using LinkedIn, toss up their profile without any real idea how they hope to use it or what they expect to get out of it.
I did that. I had a LinkedIn profile for more than five years with no concrete idea what benefit I could possibly derive from it.
I accepted connection invitations when they were offered but didn't go out of my way to reach out and forge many new contacts of my own.
Not surprisingly, after five years I only had something like 30 contacts in my network.
My excuse was that I wasn't yet a freelancer but knew that's the direction I was headed. I didn't see much value in connecting with coworkers at a job when I thought I might not be there in a few years.
Big mistake.
These days, no one stays at the same company for 30 years. Most people don't even stay in the same industry for 30 years.
Connections you make at one school, job or organization will almost certainly carry over to all of the future places where those people will eventually go to school, work or participate in other professional activities.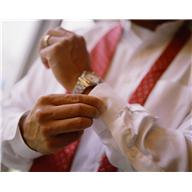 The mail clerk you befriend today may very well be going to law school at night and become a high-powered attorney in just a few years. Or the junior recruiter may become director of her own HR department two jobs from now.
Click any of the icons below to retweet these passages from the above article.

 Most people join this social network with no idea what they expect to get out of it.

 My big mistake with LinkedIn.

 These days, no one stays at the same company 30yrs. Most aren't even in the same industry 30yrs.